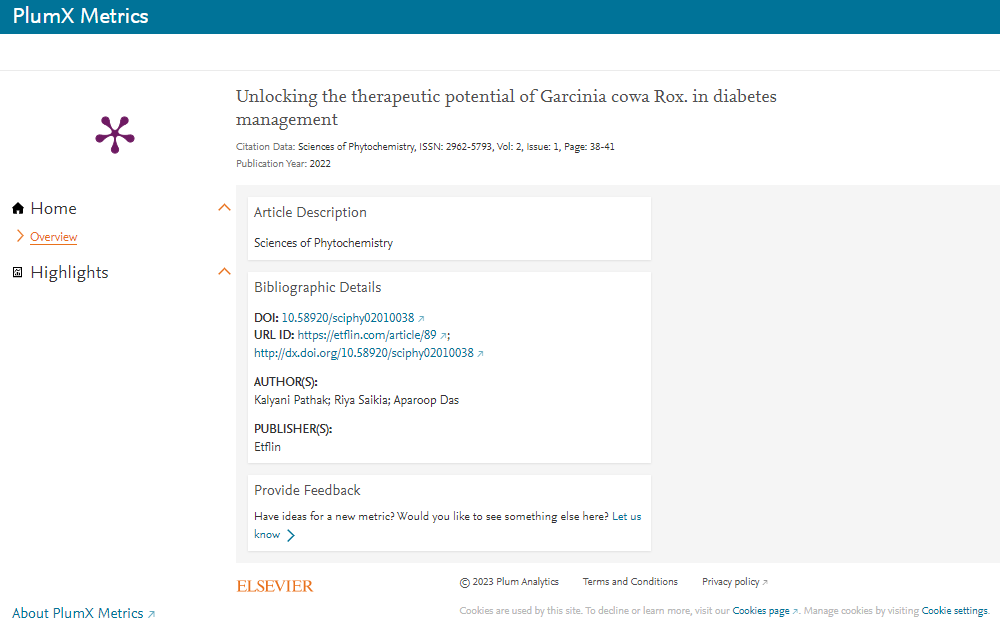 PlumX Metrics (Owned by Elsevier) tracks articles published in the journals of ETFLIN
James H. Zothantluanga
Saturday, 11 March 2023
Great news for the authors and audience of ETFLIN journals. We are happy to inform that all the articles published by ETFLIN are now tracked by the PlumX Metrics (
Owned by Elsevier
).

PlumX Metrics are comprehensive, article-level metrics that provide insights beyond traditional citation metrics. PlumX Metrics provide insights into the ways people interact with individual pieces of research output (articles, conference proceedings, book chapters, and many more) in the online environment
[Reference]
.
This means that every article published with us is now visible to the global research community and will receive wider recognition.
The inclusion of our journals in the PlumX Metrics database is a testament to the quality of research published in our journals and the dedication of our editorial team.
We are excited to see the impact of this collaboration on the academic community. We are confident that the increased visibility of our publications will bring new opportunities for collaboration, innovation, and knowledge exchange.
We would like to express our gratitude to all of our authors, reviewers, and editors who have contributed to the success of our publications. Your hard work and dedication have helped us achieve this milestone, and we look forward to continuing to work together to advance the field of research.
Thank you for choosing to publish with ETFLIN Journals. We are committed to providing you with the high quality publications and services, and we are excited to see what the future holds.
Tags:
ETFLIN PlumX Metrics